Introducing our
Autumn 'Shoot for the Moon' Update
(part 1)
Why "Shoot for the Moon"? Well, even if the new features don't help you reach the moon, at least you'll be amongst the stars! 😉 We've been hard at work behind the scenes over the past year building lots of new features, squashing bugs, and implementing features for GDPR compliance. The later taking a lot of man hours across the entire team, resulting a a few things being pushed back. The good news is GDPR changes were fully implemented and we're back on track with new feature releases for both the Form Builder and the Billing Pages.
Where do we start? So many new features across the form builder, billing pages, and the addition on a new user type. We'll be publishing a series of blog posts detailing all the new features over the coming weeks. Let's get right on in there with some of the enhancements…
Enhanced Tasks & Job Dispatch
One of our aims is to improve our Tasking functionality, providing a more full-featured solution for business that need to dispatch and manage jobs across their personnel in the field.
Calendar View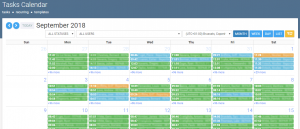 A new calendar based view of Tasks will provide a new way of visualising your people and jobs as they happen across the month, week or day.  This will include filtering options for status, person, Task type with colour coding options as well. We've also added colour coding of Tasks by status.
Recurring Tasks
For the first time, you'll be able to create repeatable Tasks, which then get automatically re-created and dispatched on a timeframe of your choosing. Annual, monthly, weekly and many options in between will be available to allow highly customisable repeat configurations.


New "First Available" assignment option on Tasks
We have added the option to let the system randomly auto-assign Tasks to available users instead of requiring a specific person be assigned.  This will help with cases where a Task can be performed by any worker in the field, saving time spent looking through existing bookings to find an available worker.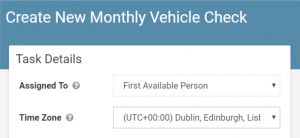 Improved Task Filtering
New options are being added to the default Task table view, allowing more flexibility in showing Tasks per person and date range.
Task Time Zones
Tasks now have explicit time zones defined on them, which addresses issues when scheduling Tasks for company users that are spread across multiple locations or countries.  The explicit time zone extends to the Calendar and Tasks listing pages, allowing you to view all Tasks displayed in your preferred target location time.
Tasking Improvements
The Notes field on Tasks can now be hidden through a new option on the Task -> Details page

The expected Start By date & time is now shown on the app's Task list and details screens

Task icons can now be specified via the Task API

The next 5 future instances of a recurring Task now appear on the app's Task list, providing app users with more visibility of their schedule ahead.
Task Connectors
This new feature allows you to generate emails, text messages and/or REST web service calls based on events occurring on a Task.  e.g. if the assigned user is changed, the status updates or if the Task becomes overdue.
Creating Task Connectors
Task Connectors are an option on Task Templates, thus allowing you to create different types of jobs with their own unique connector configurations.
Go to the Tasks main menu item, then jump to the "templates" page via the navigation bar.

If you don't have any Templates, then add a new template by clicking on the ADD NEW button.

When creating a new Template, you'll encounter a step in the Template wizard named Connectors.

If you edit an existing Template, you'll see a navigation link named "connectors" off the Template details page.

From the Connectors page, you can add Email, Rest and/or Twilio connectors.
Task Connectors work similarly to our existing Form Connectors, with the additional ability to access Task-specific information via new built-in Task metadata placeholders.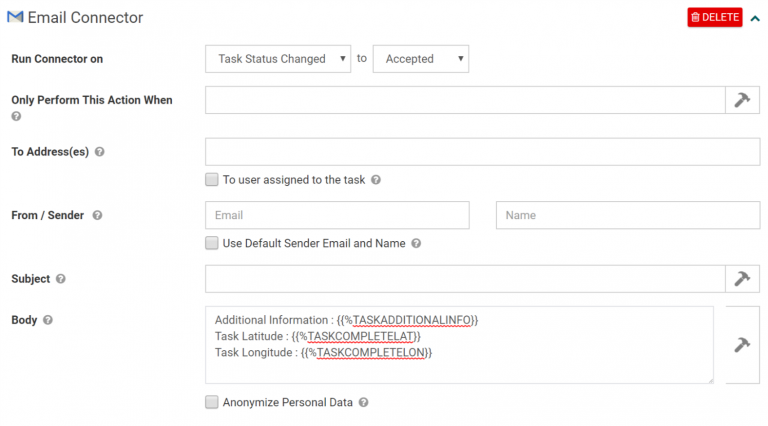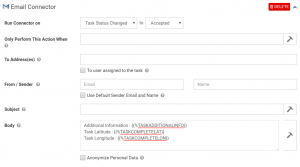 Task Connectors can be triggered for the following Task event cases:
Task is Overdue

Task Owner Changed

Task Status Changed
To find out more, check out our new Task Connectors documentation (login required).
We have high hopes for this new release, and we think you'll love all the new features, as they offer significantly more value and options to existing and new customers.  We'll be switching on everything, new features, new user types, new pages, progressively between the 25th October and 1st November. Keep an eye out for the updates and let us know what you think!