Introducing our
Autumn 'Shoot for the Moon' Update
(part 2)
SharePoint List Connector
We're launching a new Form Connector which will add the ability to add/edit rows to a SharePoint List. Our existing SharePoint Connector for Forms focused on the document library aspect of SharePoint – in that you could generate custom Word, Excel and PDF outputs for storage in a library. Now this new List Connector extends our SharePoint integration to allow manipulation of rows in a target SharePoint List.
Please note that the connector can only be configured and used by Premium level users.
Setting up the Connector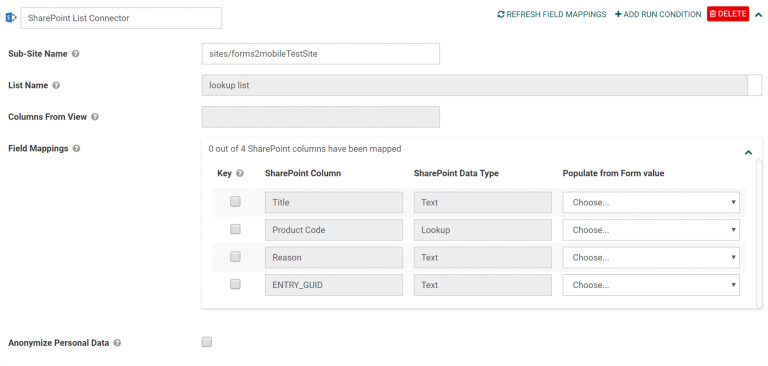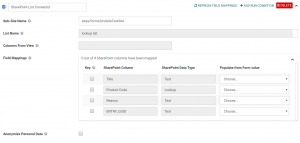 Ensure you have a valid SharePoint connection defined in the Connections area

Go to the Connectors page on any Form, and add the new SharePoint List Connector

Specify a List name for the connector to access and hit Save

Our system will retrieve the columns available in the target List – you now simply need to map a Form value to each column as desired
Updating SharePoint Rows
By default, the SharePoint List connector will insert new rows into the target List. If you want the connector to update pre-existing rows, then use the Key option to define a key column which will be used to find a matching SharePoint row when the connector is executed. If a matching row is found, then that will be updated. Otherwise a new row will be added.
Repeating Data
The connector also allows for repeating Form entry data – it does this by creating multiple rows, one for each repeat. All non-repeated data is copied down into each repeat row created.
New Metadata/Keywords Option on SharePoint Documents Connector
You'll now be able to apply metadata to documents you create via our SharePoint Documents connector.  This metadata can be static text or dynamically generated via a formula, and will be added to the uploaded file via SharePoint's Enterprise Keywords facility.
Easy Refresh of Columns on SharePoint List Connector
We will be adding a Refresh option which will appear on your SharePoint List connector, enabling you to refresh the column list and update field mappings without deleting the entire Connector.
We have high hopes for this new release, and we think you'll love all the new features, as they offer significantly more value and options to existing and new customers.  We'll be switching on everything, new features, new user types, new pages, progressively between the 25th October and 1st November. Keep an eye out for the updates and let us know what you think!