Mobile & Tablet Data Collection.

Equip your field teams with the custom tools and data collection apps that make work on the move easier & faster.

Enable your teams to receive tasks dispatched from the office, review & collect critical data in the field and, submit validated error free data both on or off-line.
Increase Accuracy, Efficiency & Productivity, tablet & mobile data collection at it's finest.
Build robust apps ready for real work.
Build apps & workflows with a vast array of field types, cascading lists, repeating sections, conditional logic &, just about anything you can think of to create efficient mobile data collection applications.
Web based apps are great… when you're connected. That's why our mobile and tablet data collection apps are offline capable and 100% native, so you can keep working even when your internet connection isn't.
Our intelligent mobile app technology will store all data securely on your mobile device, uploading & synchronising when you're connected.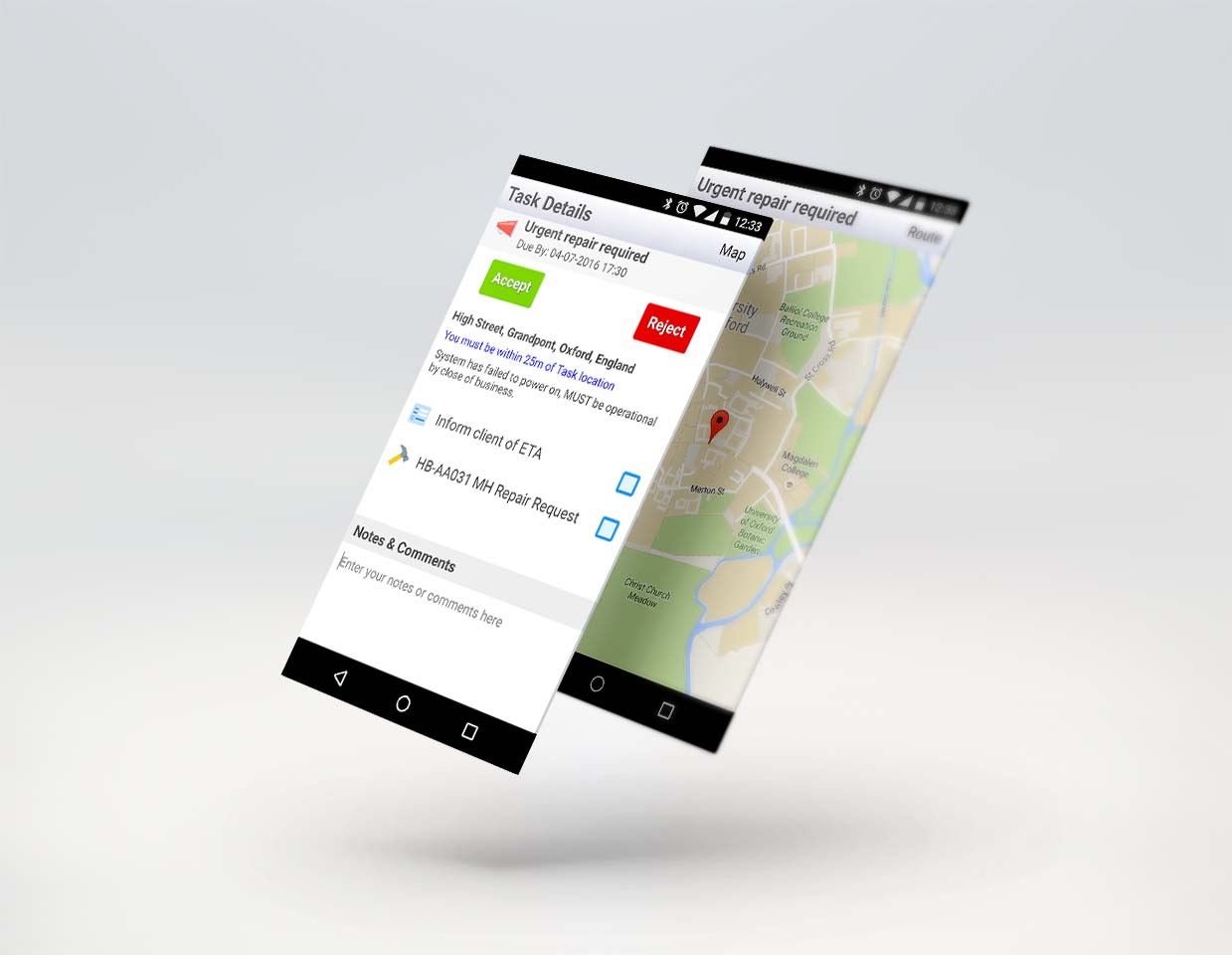 Assign tasks & dispatch jobs.
Adapt to an ever changing day, remain responsive, exceed client expectations and maintain visibility of your day to day operations. Tasks & jobs can be assigned to individual users with additional workflow ensuring service levels remain consistently high. Assign a time, date and location to tasks to make sure they are completed at the right place, right on cue.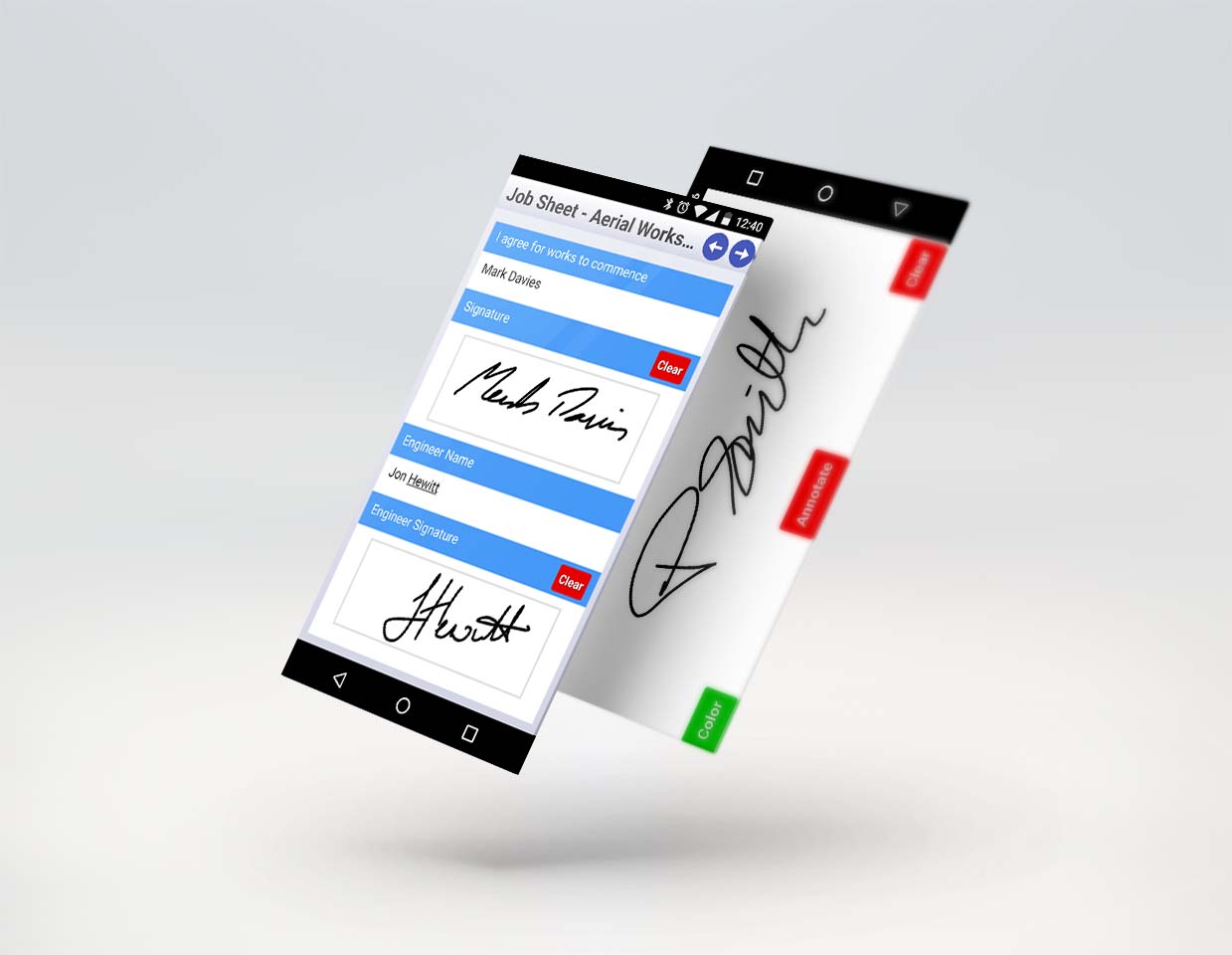 Obtain client sign off in the field.
Gain client approval signatures directly from your smartphone or tablet data collection application. No more paper forms going to multiple departments or getting lost. Clients, office staff, field staff. Everyone is clear on where, when and by whom a job was completed and accepted by.
Intelligent Image Capture.
Capture images of the task or job in hand and provide extra clarity and context by annotating the image. Image capture within your electronic forms provide accountability in the event of client uncertainty or questions. Capture before/after images, highlight faults, or provide proof of delivery. Images can be date, time and location stamped for completeness.
Industry Leading Features
Click an icon to find out more…
Always On, Always Up To Date

Apps, workflows, forms, keep everything up to date and in sync, securely. Receive new tasks and forms as they are dispatched. Uploads collected information instantly. Keep everyone on the same page at all times.

No Signal? No Problem!

Whether you work at the top of towers, the bottom of lift shafts, or anywhere in between, there will always be times when you don't get a signal. Our native apps for Android and Apple (iOS) means you can collect and access data whenever you need it. (Windows version coming soon!)

Intelligent Input & Logic Control

Lists, drop-downs, buttons, true/false and ratings questions all help increase efficiency when you're working. Minimise the time needed to fill out forms. Further enhance your electronic forms by using skip logic to specify paths to questions depending on previous answers.

Task Location & Navigation

Ensure tasks and jobs are completed at the correct location with Geo-Fencing and navigation. Field teams can easily see where their tasks need to be completed and, office teams gain that all important real-time business overview.
Notifications & Messaging

Stay fully informed

Push notifications are an essential part of keeping your field teams up to speed. Notifications are automatically sent when tasks and jobs are assigned. You can also send custom messages on demand informing your teams of updates or changes they need to know about

Signature & Media Capture

Images, Audio, Video, Signatures, Sketches.

Capture an image of the site, record evidence of the incident, sketch a layout. Whatever media you need, images, video and audio. We've got you covered whatever you need. Add context to your images by annotating them before you upload them. Make sure your business operations remain compliant by capturing signatures at key points within your workflows.

Business & User Friendly

Whether you manage your own fleet of mobile devices, or you're teams and contractors use their own. Simply download forms2mobile for Android and Apple (iOS) tablets & phones from the store. Your workflows, forms and data collection apps will work on any device with any sized screen.

Keep the latest information in hand

Service manuals, user guides, plans & layouts. Push documents and files to your teams so they always have the latest most up to date information available.