We look at 8 Ways digital transformation improves agriculture and vineyard management and makes life way easier for the agriculture industry!
Digital transformation improves agriculture and vineyard management in many ways, and fortunately, effecting this technical transformation in the agriculture industry is way easier than you think – with the right low-code/no-code app builder platform.
Today, we're highlighting how digital transformation in agriculture and vineyard management increases efficiency, creates safer farms, and lets you spot emerging trends that may be happening in your farm or vineyard so you can take action, faster.
And best of all, you don't need any extensive technical expertise to get going!
These are the key benefits of digital transformation in agriculture. With data based on what kind of mobile apps and digital forms our users are building in the agriculture industry.
How Does Digital Transformation Improve Agriculture?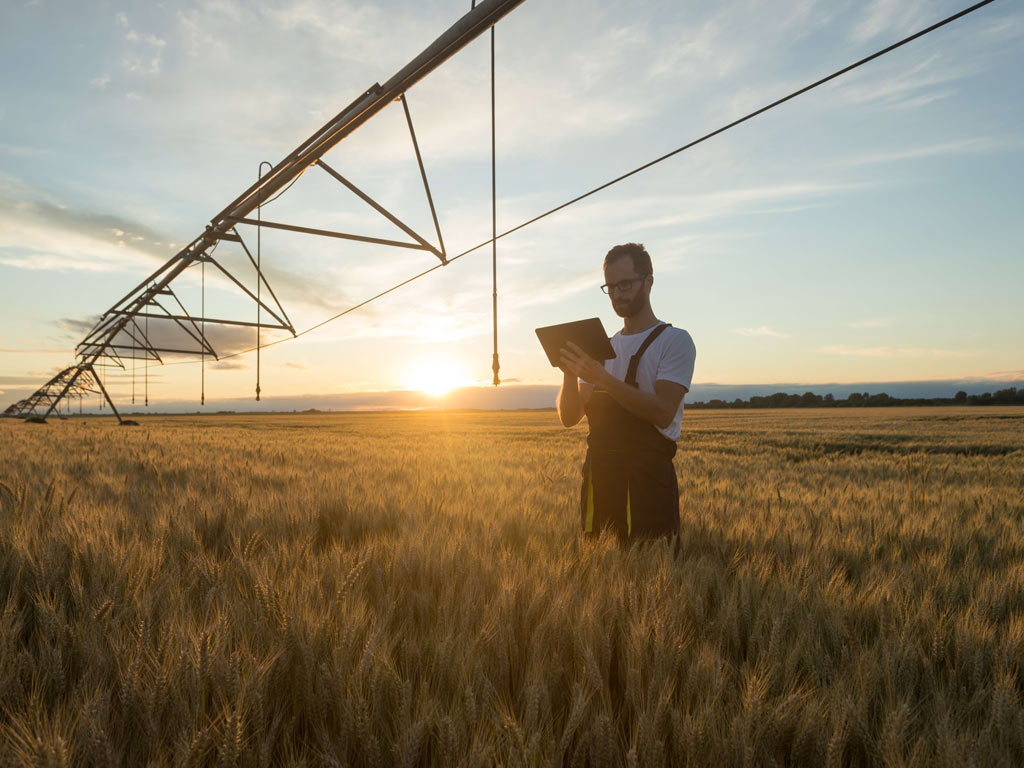 1. Crop Yield Optimisation
One of the most significant impacts of digital transformation in agriculture, or "digital agriculture" as it's otherwise known is its unlimited ability to boost efficiency on your farm or vineyard/winery and positively impact crop yields – when you know how to capture data and then access it!
With the power of low-code/no-code app builders and digital forms, farmers can now access real-time data, enabling them to make informed decisions about their crops anytime, anywhere.
In addition, this can have a positive effect on the economy and our health as human beings as we all depend on our farmers for our food. Why?
Well, according to this study – by 2050, each farm is projected to produce around 4.1 million data points daily, ranging from soil conditions to weather forecasts. This tonne of information, when analysed effectively, can guide farmers to adjust their planting schedules and crop choices, ensuring profitability and reducing food waste, while ensuring we all have access to food.
How could forms2 low-code/no-code platform & business apps help with agriculture?
By harnessing digital transformation and using the forms2 data capture app and digital forms, farmers can collect, analyse, and monitor data about crop health and environmental conditions or soil health. This data can inform better decisions about planting, fertilising, and harvesting, ultimately improving crop yields.
For example, a farmer could use a mobile form to input data about plant health, and the agriculture app could provide immediate feedback or predictions about expected yield based on that data depending on how you set it up. You can access existing data you already have, compare it or add new data by pulling from any data source you wish thanks to our custom API.
Here at forms2, we take data capture a step further. Our low-code/no-code app building platform allows farmers to build custom mobile apps and digital forms for data collection without needing to know how to code.
In days.
2. Cattle Health Management
The health of your livestock is crucial – we know this because we help farmers create digital transformation in agriculture every day with our low-code/no-code app building platform and digital forms.
With a mobile data capture app for agriculture built with forms2, farmers can keep detailed health records for each animal or group of animals right on their mobile devices. You can track vaccinations, illnesses, treatments, and breeding patterns over time and use automation to set up automatic reminders, ensuring that each animal receives the attention and veterinary care they need when they need it.
3. Irrigation Management
Any agriculture professional developing a strategy on their farm knows that proper irrigation is vital for healthy crops. But it's also a laborious process when it comes to testing, analysing and setting up irrigation schedules. Are you using too much water? Not enough? Are you watering too early? Too late? Is the weather affecting water usage?
Fortunately, with the forms2 low-code/no-code app building platform, farmers can build an agriculture data capture app to track soil moisture levels based on their collected data, and then adjust their strategy thanks to weather forecasts pulled from an API, anywhere in the world. If you have multiple sites, you can also deliver alerts to those sites thanks to push notifications, alerting your team that it's going to rain.
Simply by using a digital paperless form platform, you can record vital irrigation data consistently and reliably, then provide that information to farmers and agriculture managers to gain insights into irrigation patterns over time and optimise water use.
4. Pest and Disease Monitoring
Keeping up to date and informed of any pests or diseases in the agriculture and vineyard industry is vital. The health of your crops and livestock means everything. Digital agriculture and data capture apps for farms and vineyards make this 10x easier to keep ahead of.
By building apps with a reliable low-code/no-code platform, such as forms2, farmers, agriculture analysts and vineyard managers can monitor and record the occurrence of pests or diseases in the field, and track what's going on. By using an API to access real-time data and connecting your tech stack data capture apps can be pivotal in early identification of outbreaks or potential outbreaks. This means farmers have the opportunity to intervene before pests or diseases start causing damage or endangering livestock or crops!
This particular benefit of digital transformation in the agriculture industry is super important given the broader implications of pest and disease control in the agriculture sector where cattle, crops and vineyards are involved. According to a report by the Food and Agriculture Organization of the United Nations (FAO), pests and diseases are a major threat to our food security, with agricultural losses attributed to pests estimated at 20-40% of global crop yields.
How could forms2 low-code/no-code platform help with agriculture pest control?
A lot of ways! But mainly to spot disease and pest trends over time – which is invaluable!
Our agriculture and vineyard management customers have used the forms2 platform to build data capture and data analysis apps to monitor and record instances of pests or diseases in their crops and livestock. With access to this data, you can also spot trends and disease patterns, make any changes necessary and catch outbreaks and minimise losses in agricultural crop yields before it's too late. No more looking through paper to find trends and manual Excel spreadsheets! Just input the data into your tech stack using mobile forms and analyse in real time.
5. Farm Inventory Management
"So who took the harvester out today?"
Let's be honest here, maintaining schedules when it comes to machinery usage, servicing, safety training or simply whose turn it is to operate on that day can be pretty tricky and whiteboards are never a good idea!
Farmers can keep track of their machinery and supplies, from seeds to feed to equipment, using mobile forms. Set automated service schedules, and provide training on crop harvesting or operating manuals in PDF format or even videos taken on-site.
By using an agriculture low-code/no-code app built on a mobile app platform like forms2, real-time inventory management is much easier as you can access all the data you need about stock schedules, equipment usage and more. This can help farmers avoid shortages or overstocks, which not only improves the efficiency of your farm but reduces costs by providing accurate forecasts of times when stuff needs to be fixed and how much seed you're using. Especially useful for vineyard management applications.
6. Georeferencing
A key low-code/no-code trend in agriculture we identified in our 2023 survey, was the need for agricultural mobile apps with georeferencing features.
This makes perfect sense as identifying exactly where you are in the middle of a field isn't an easy task – especially if you manage multiple locations.
With a business app built for agriculture and farming with forms2, farmers and vineyard managers can mark specific geographical locations where they've noticed issues using mobile forms. This could be things like poor soil quality, pest infestations or even livestock attacks from the local wildlife.
Georeferencing features in agriculture mobile apps also come into play when it comes to irrigation optimisation, identifying areas where vineyards were last pruned, fertilised or had herbicides applied. With the forms2 platform, you can create a farming app for data capture (as they're sometimes known) with media such as pictures, videos and voice notes so you can take images with geographical reference for anyone to see, including colleagues, owners and clients.
Apps with georeferencing functionality even provide safety features. Georeferencing features is becoming extremely useful in agriculture, something which we found in our low-code/no-code statistics and trends in agriculture survey results.
Farm workers can send out alerts based on their location so managers know where they are… which brings me to my next point.
7. Worker Safety Compliance
According to the Health and Safety Executive, Agriculture has the worst rate of worker fatal injury (per 100,000) of all the main industry sectors, with the annual average rate over the last five years around 21 times as high as the all-industry rate. In a study of agriculture in Great Britain 2021/22′ it showed 25 people were killed as a result of farming and other agriculture-related activities during the year.
Safety is a significant concern on farms. Mobile agriculture apps help reduce risk.
With mobile forms and mobile business apps designed for agriculture, farmers can complete safety checklists and incident reports, on the spot using their mobile form, with required fields for audit purposes. This not only ensures that they (and you as a farm manager) meet regulatory standards, but that all parties are doing what they can to ensure that workers are safe.
You can even set up alerts in-app to remind farmers of necessary safety measures or equipment checks at specified times. These alerts can include things like Lone Worker Protection protocols, where a user has to respond within a specified time frame. That is then logged via GPS tracking and you can even specify that you need a response with media or voice note using the app.
Did you know that access to Mobile BI can actually save your workers' lives, too?
8. Soil Analysis
We have covered a little about soil analysis apps in this blog, but it is a major request by agriculture and vineyard managers looking for agriculture management apps. During the onboarding process we identified that soil analysis was actually a major driving force behind digital transformation in agriculture.
Wondering why that might work?
Let's consider a farmer who needs to regularly test the soil on their farm for nutrient content, pH levels, and other factors that are crucial for crop health – pretty standard stuff.
Usually, this would involve taking multiple soil samples, sending them to a lab, waiting for the results, and then manually entering this data into some form of record-keeping system manually – usually, Excel or similar when you had the email or paperwork back.
Let's be honest here, this process can take days or weeks, and paper is prone to errors, especially if the farmer or vineyard manager has a large amount of land to manage or test. This is why digital/mobile forms are so important.
How does a forms2 agriculture mobile app improve agriculture?
With the likes of the forms2 low-code/no-code app builder, our customers actually use the platform to create customised soil analysis forms with geolocation and geo-tagging so you know exactly where the soil was taken from! They capture the data in the field, in-app, which can be automatically uploaded to the tech stack, your back office or the recipient of choice via API.
Now, here's the good part! When the lab results come in, you can quickly input the data into the form directly from your smartphone or tablet, which eradicates errors and saves a LOT of time!
BONUS: if you're using the API to send data to anyone, data that is returned through the API will automatically update based on what you input.
With forms2, you can sync your data from these forms to the cloud, on-premise, dynamic, or static data, which the farmer or vineyard manager can access and analyse anywhere, at any time. Again, the benefit of digital transformation in agriculture here, especially in soil analysis mobile forms is that you can monitor trends in soil health, identify areas that need improvement, and make better designs around your crops. The fact that your analysis is geotagged makes it much easier to identify problem areas, too.
So what's the key takeaway here?
The benefits of digital transformation in agriculture are crystal clear. And when using the forms2 low-code/no-code platform, farmers and vineyard managers can build custom mobile apps for data collection without needing to know how to code.
With some customers up and running in a few hours, you can build your own agriculture management app quickly and go from low-code beginner to expert in days.
Track and analyse crucial data in real-time on your farm, make better-informed decisions and keep your workers safe while maximising profits. Sound pretty good?
The easiest mobile form builder for the agriculture industry
14-day free trial
14-day trial. No Fee. No obligation. Try today.
Still on the fence?
Read our mobile forms and business app case studies to see how we've helped the agriculture industy improve their processes with low-code/no-code business apps, mobile forms.
If you want to know whether low-code/no-code is the future (it is), then all you have to do is compare the costs of low-code vs traditional development and you'll get a good idea. In short – it's WAY cheaper than building an app in the traditional way!