Are you leveraging Mobile BI in way you can understand? Here's why you should be!
If you're like most business owners, you're always looking for ways to increase efficiency and productivity. And if you're smart, you'll be looking into data integration and mobile BI.
Your competitors are. That's why the mobile business intelligence (BI) market is expected to witness market growth at a rate of 21.9% in the forecast period of 2021 to 2028.
Your competitors are choosing mobile business intelligence tools to make better decisions. Fast.
They're using Mobile BI to save workers' lives and increase safety on-site, too.
In case you don't know, we've broken down what Mobile BI is here:
What is Mobile BI?
Mobile Business Intelligence (Mobile BI) is a type of software that allows users to access, analyse, and use business data on their mobile devices such as smartphones and tablets to make better business decisions. It's typically provided through mobile business apps or web-based dashboards and can be accessed from any device with an internet connection or phone signal, making it convenient for employees who are on the go or working remotely.

Mobile BI can help organisations make better decisions and improve employee productivity by providing access to up-to-date data and insights.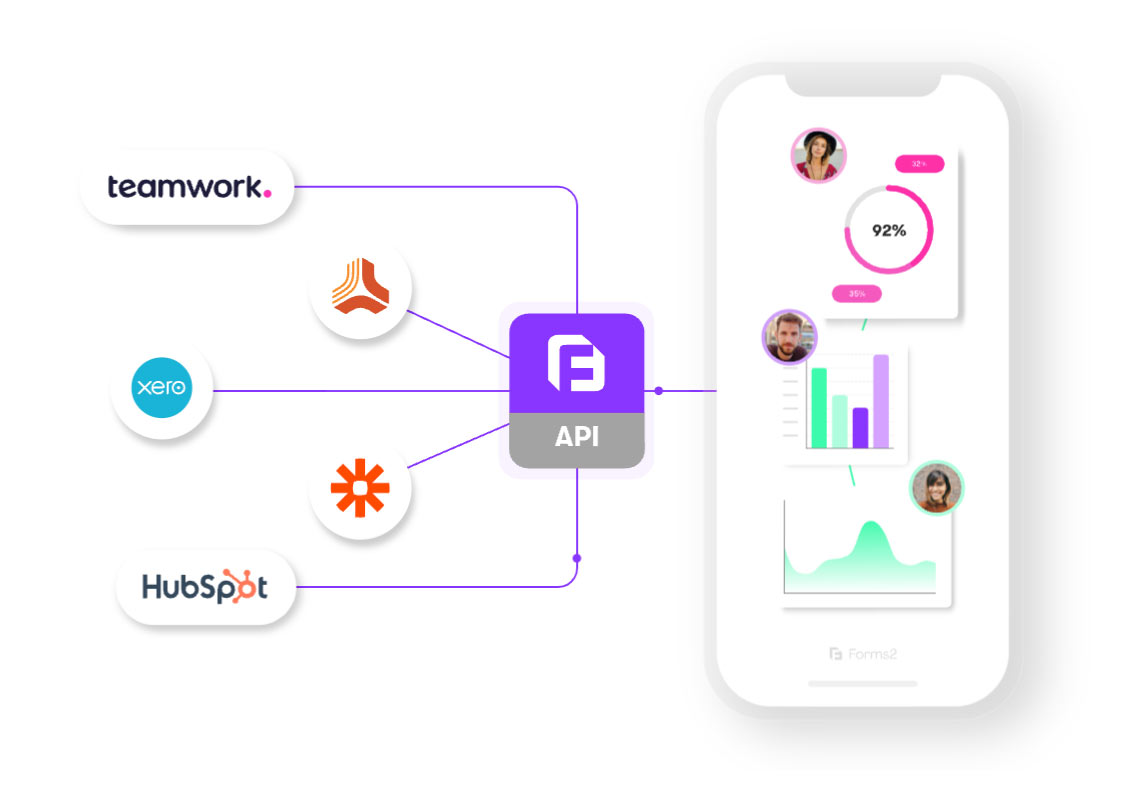 Let me guess. That sounds pretty good to you!
Well if you like the sound of that, you'll love the key benefits of using Mobile BI, and integrating it within an app that you can access via your smartphone or tablet!
Oh yeah. And you can build it yourself, or your IT team can build it with the forms2 low-code/no-code platform in days. Not months. Not years.
Days.
What would you do if you had all the information you need about your business in the palm of your hand?
What kinds of data can I access with Mobile BI?
To be honest, there's no limit on the different types of data that can be accessed with mobile BI tools. As long as there's an API for it or you use our built-in integrations, you're good to go!
You can access data such as:
Customer Data
Financial Data
Operational Data
Stock Levels
Customer Retention
Customer Lifecycle
Safety Reports
Work Progress
Order Levels
Tracking Sales And Revenue
Monitoring Social Media Analytics
Customer complaints
Supply Chain Information
All of this information can be presented in a variety of ways that are useful to you, such as charts and graphs.
This makes it easy to see trends and patterns that you might otherwise miss, or not be aware of at all!!
Mobile BI can also give you real-time insights into what is happening within your own organisation which is invaluable when it comes to making decisions on the fly and ensuring that operations are running smoothly.
What if you could track customer reviews in a dashboard?
What if you could see and solve stock inventory and supply chain issues in your warehouse operation in the same dashboard?
What if you could leverage your facility management data and cross-reference the upcoming vacancies in your real estate portfolio with service history so you know exactly when you should have that new oven installed?
What if you knew exactly what the weather was doing so your welders working at height know when it's safe to do their job?
What if you could potentially save lives with instant access to Lone Worker Protection (LWP) data?
Does this sound good to you? How about all of this in the palm of your hand thanks to a mobile business app?
Fortunately, we can help you out with that as we enable businesses to connect their tech stack and access Mobile BI easily!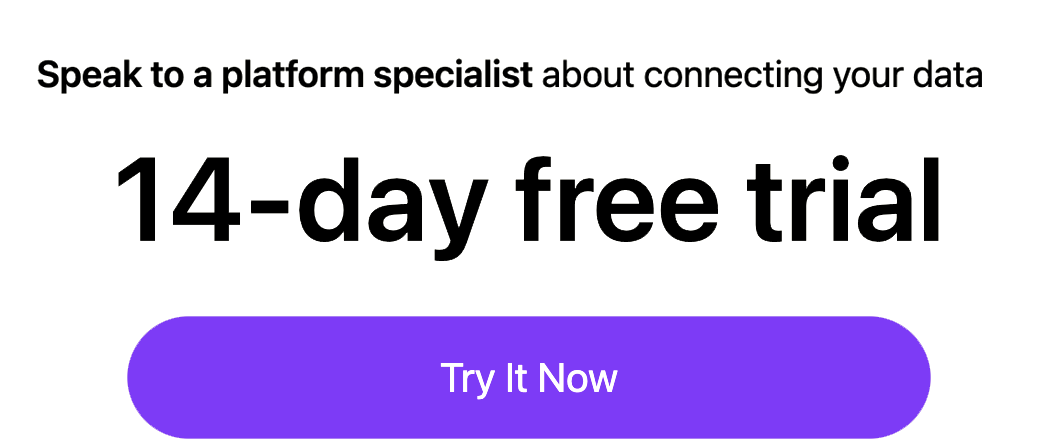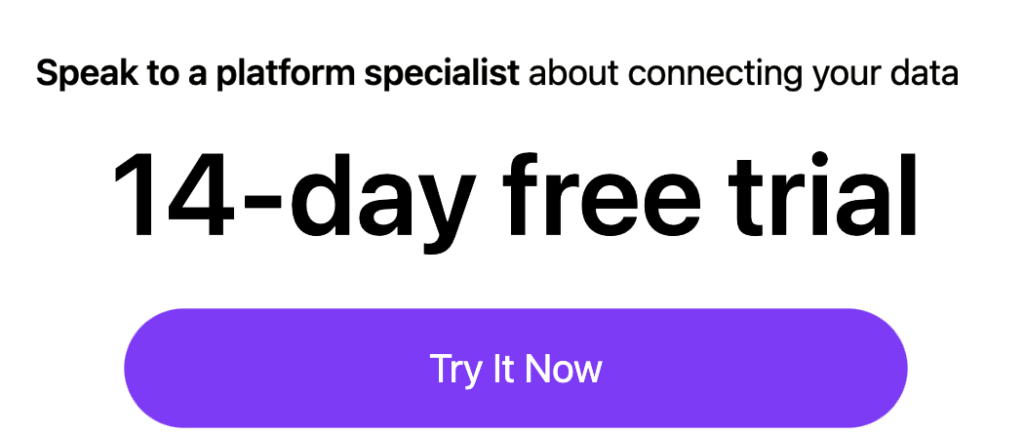 What are the key benefits of using Mobile BI with a business app?
Here are 11 benefits of using Mobile BI in conjunction with a low-code/no-code business app and letting the two technologies communicate with each other:
1. It will make you more money.
When you have access to critical data you can spot trends in product sales, catch supply chain issues and leverage customer data to increase sales potential. You can also use it to ensure you're not visiting the same site twice and wasting money on call outs…just like MAAC Cooling & Heating did by using mobile forms and mobile business app!
2. Increased efficiency
When all your data is in one place (e.g. the palm of your hand), it's easy to find what you need and make decisions quickly. It can potentially save lives.
3. Improved decision-making
With mobile BI, you can access your data anywhere, anytime. This means you can make informed decisions on the go.
4. Faster response times
Integrating your data with APIs will eliminate ambiguous decisions and improve communication between departments. This will lead to faster response times to customer inquiries and complaints.
5. Improved customer service
In addition to faster response times, better integration will also lead to more accurate information being shared with customers (and fewer mistakes) – which will likely have a knock-on effect for better Trustpilot reviews!
6. Organised, readable data
A well-integrated database is easy to navigate and makes finding information a breeze – no more awkward silences in meetings!
7. Easier reporting
Instead of pulling data from multiple sources and compiling it yourself, reporting becomes a simple task when all the data is integrated properly into an easy-to-use dashboard.
8. Reduced stress on employees (and managers)
Mobile data integration eliminates the need for manual input and cleans up your data so there's less chance for human error occurring downstream. This means less stress for everyone involved! The data is easy to collate and there when you need it and there are almost zero errors as you only have access to the data you need.
9. More time for analysis
With all your data at your fingertips, you'll have more time to analyse it and find trends that can help your business grow. Rather than sifting through data – it's all there for you to peruse and make the right decisions.
10. Cost savings
When businesses integrate their data properly within a low-code/no-code mobile BI business app, they often see a reduction in the number of man-hours required for tasks like reporting and customer service measurement. It also speeds up the sales process as you have the data you need to pick up where you left a warm lead. It's also cheaper to use low-code/no-code business apps than pay for traditional development if you want to access all your data in one place and connect your tech stack!
11. It's safe
Mobile business app security is paramount when you use forms2 – all your data is safe and can only be viewed by those who have registered access. We've answered the question: is low-code/no-code safe, here.
How do I select the right Mobile BI solution?
When it comes to choosing a Mobile BI solution, it's vital that you check it's compatible with the devices your team are already using, or that you potentially want to use in the future, for example, an Android or iOS device/iPhone vs Samsung tablets etc. Always choose a mobile BI platform that provides the features and functionality that you ACTUALLY need, be sure to find out how easy it is to use and how quickly you can roll it out too!

Chances are your staff already know how to use a tablet or smartphone. So start there.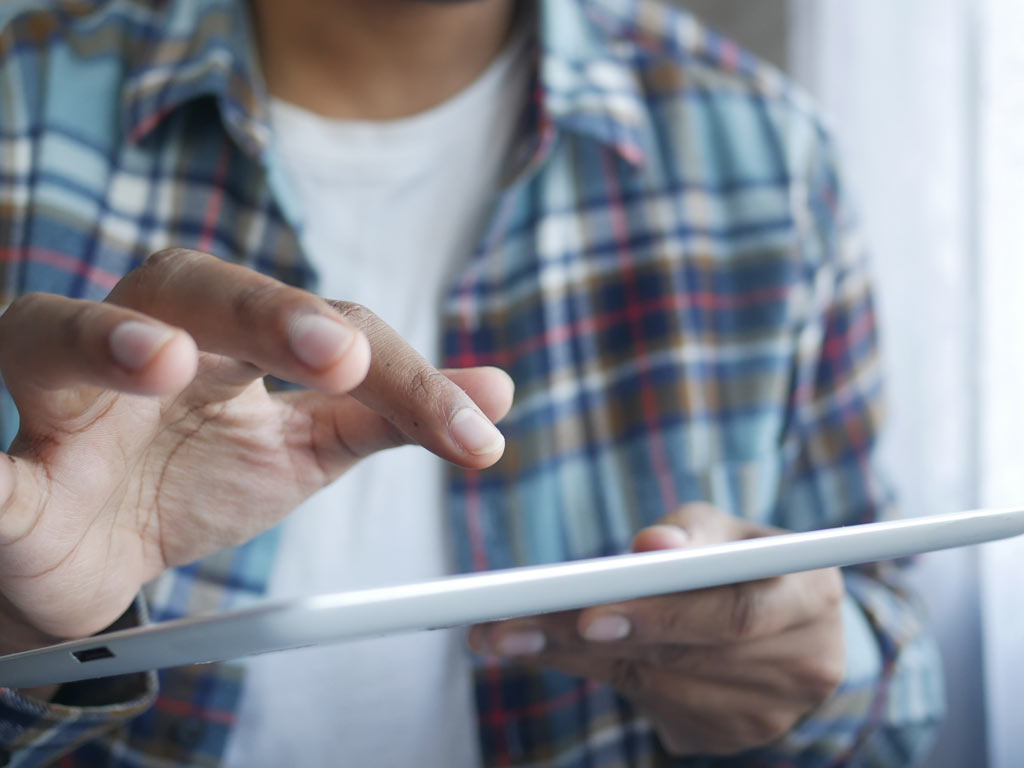 I like the sound of it, but I need a real-world example of how a company used Mobile BI to improve their operations!
Sure!
Leveraging Mobile BI through a low-code/no-code business app and data connectors is exactly how the European Camping Group managed to save nearly $300,000 per year!
Here's how…
With over 2,500 employees and 300 sites across 10 countries, ECG wanted to ensure data collection was accurate, reliable and safe. They also needed to ensure all data was within one handy dashboard. Mobile BI had to be easily accessed by approved admins, safe to view and easy to analyse. It also had to speed up the customer intake process!
In conjunction with our unique API, they achieved all this and more by using a no-code business app they built themselves. Normalising data collection and business processes through the forms2 platform. All employees used the same style tablets and dashboards so everyone knew exactly what the processes required and managers could leverage the data they needed.
Best of all, it was available in multiple languages!
In summary, by using forms2 low-code/no-code business app platform European Camping Group were able to access all Mobile BI they needed and saved:
£90,000 in lost stock per year
£75,000 in admin per year
£92,000 in paper per year
£20,000 in fax machine costs per year
A total of £277,000 per year
Read how the European Camping Group went from this:

To this:

By using data connectors, the European Camping Group absolutely streamlined their business and managed to increase efficiency and reduce costs on a massive scale!
Read the forms2 mobile forms and business apps case studies and testimonials and see what your competitors and peers are doing!
forms2 makes connecting with your mobile BI simple
Fortunately, with the forms2 low-code/no-code mobile BI platform – we can connect to almost any analytics system you need thanks to our custom API. Best of all, you can build your Mobile BI business app to work with Windows, iOS and Android devices.
We can also go one better. We can also help you get set up with a low-code/no-code Mobile Business app that allows you to store data in such a way that you can create accurate reports when you need them. Any time you need to pull data back in, you can! We can get you on the road to building a mobile app out of your existing BI infrastructure and improve it by providing Business intelligence on the go!
What about connecting with legacy systems and legacy data?
If you're having trouble with legacy systems, forms2 can extract the data from that and make it usable. In a format that you can understand. So you can make better decisions and make more money! Just speak to us about it! We've also put together a handy guide on the 5 best mobile BI solutions, for more information.
Does this sound good to you?
We believe mobile business intelligence tools shouldn't have to be complicated. This is why our users choose us – it's SUPER simple to connect the data you need via our APIs!
Speak to a platform specialist today and see how we can change the way you leverage mobile BI for better business decisions!
Build your own scalable Android, iOS and Windows business apps and mobile forms in hours, not months.
Go from beginner to no-code expert in weeks.
14-day trial. No Fee. No obligation. Try today.
*Standard plan is $18 / month, per user when paid annually. View forms2 pricing HERE.
Or compare using forms2 to build a low-code/no-code app with traditional development prices!